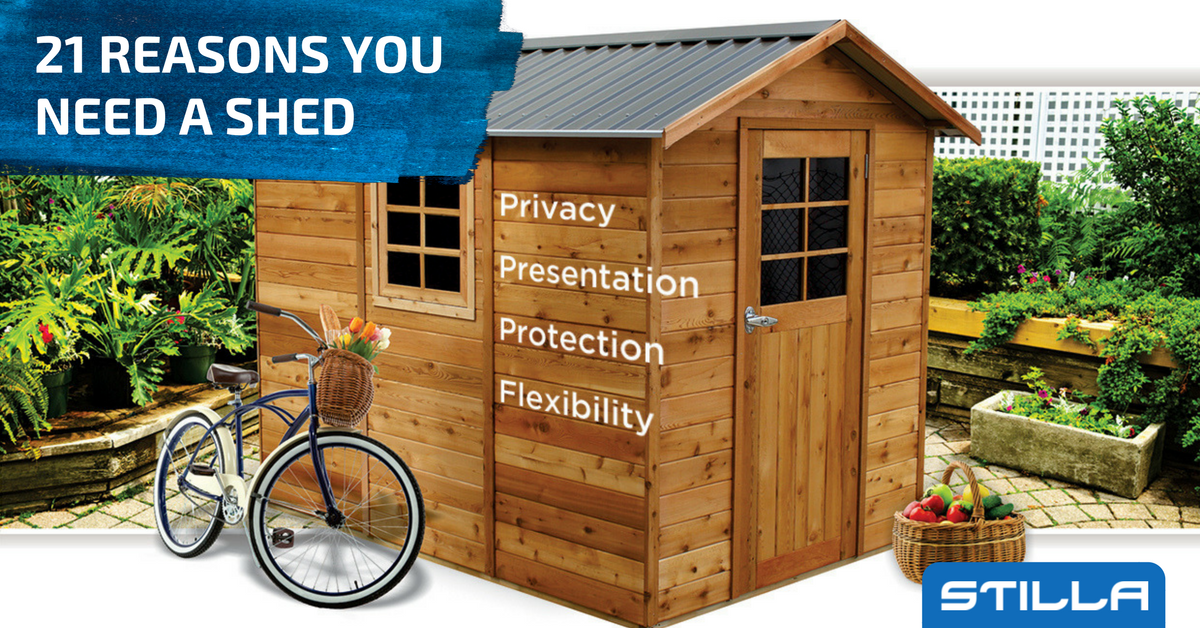 06 Dec

21 reasons you need a shed

Some people have a shed. Others want a shed. Maybe – although we find it hard to believe – some might never have thought about getting a shed.

But we're convinced that everyone needs a shed … so let us try to convince you!
Reasons 1-10
'True Blue' Aussie musician John Williamson wrote a song called 'The Shed'.
He sings "all Australian boys need a shed", and gives a few good reasons:
Somewhere to clear his head
To think about the things his woman said
A joint to learn to read an' write, to work on his bike at night
To grow up as he likes, to grow anything under lights
A place to keep his tools, nuts and bolts and drills
To hang a hide, to hide the dry or hang to pay the bills
Sounds pretty reasonable to us!
Privacy
We don't care what you do in your own shed, and nor should anyone else (unless you invite them in to join you).
"We all, men and women, need our own space at times," says Dr Timothy Sharp (aka Dr Happy), the Chief Happiness Officer at The Happiness Institute.
Presentation
You work hard to keep your yard and garden looking great, so you need a shed to store your gardening equipment, because there's no question that a neat yard is more inviting and more enjoyable.
At the same time, a beautiful Western red cedar shed is, in itself, an attractive feature.
Added value
Even if you've only flicked on The Block once, chances are you've heard judge Shayna Blaze talking about the amount of storage the contestants have or haven't included.
That's why having a storage shed adds value to any home.
Economics
If you have stuff in self storage and yet have space for a shed, you're doing it wrong!
Let's work on the cost of nine square metres of storage, which is nearly $5000 a year (at a couple of the prominent self-storage companies).
Stilla's Hyland 8×6 cedar shed, with a capacity of about 11 square metres, costs about a third of that – and it's more convenient and permanent!
Protection
You've spent money on stuff, so make it last longer in better condition by protecting it from the harsh (and changeable) Australian elements.
At the same time, you're also protecting your car, as storing stuff in the garage can lead to something falling onto the car and damaging the finish.
Security
Rather than having bikes, lawnmowers, garden tools, and sports and leisure equipment outside and accessible, locking them up in a shed makes your yard less attractive to would-be thieves.
Flexibility
If you get the right shed, you can set it up so that it's suitable for whichever member of the family needs some space of their own for whatever activity on a particular day, especially if you/they have friends over.
Inspiration
If you're the creative type, having a separate, dedicated space to get on the tools – which could mean anything from a laptop to a sewing machine and from an easel to a workbench – can only be conducive to creativity. Just you, you're thoughts, and your skills.
An outlet
Sometimes you just need something to do, a project. A shed is the ideal place to work on something that you don't need to do, but you want to do, for your own sense of achievement and fulfillment and in your own time. And it doesn't really matter if you never even finish.
Bonding
Create a safe space for your kids to join in and learn your crafty hobbies, or for you to be a part of theirs. Unlike the living room, it doesn't matter how noisy or messy you are when you're in the shed. You'll also have the peace of mind that if there's anything potentially dangerous, you can make sure the kids only have access when you're there to supervise.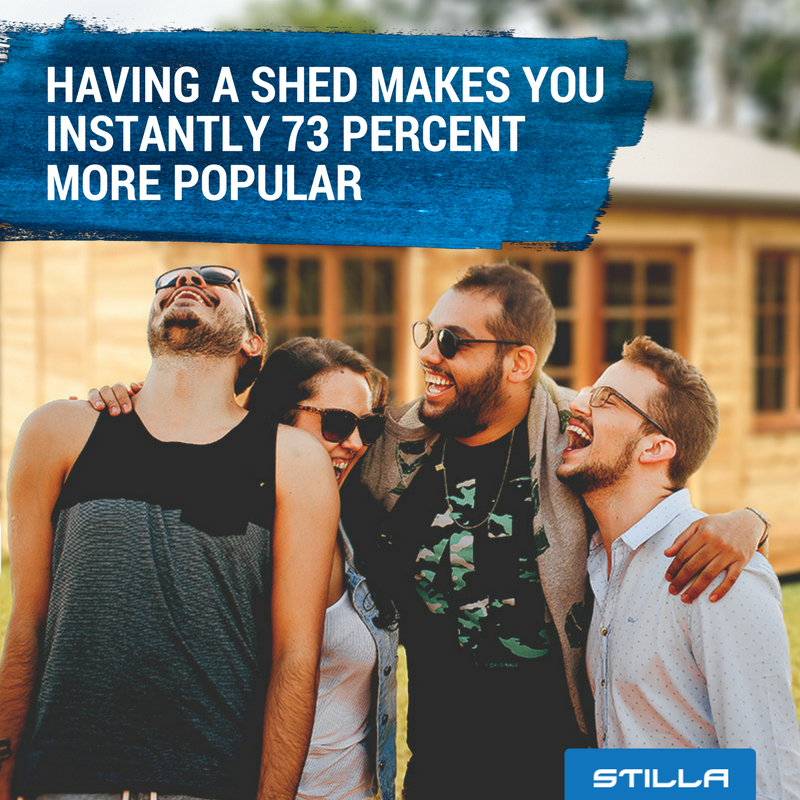 Popularity
Having a shed makes you instantly 73 per cent more popular*. Go on, get a shed and see how many of your friends come around more often!
Check out the full range of Stilla Cedar Garden Sheds here.
You might also like to read two of our related posts:
4 great reasons to add a shed to your life and
The top 8 reasons to buy a cedar shed.
*Disclaimer: This ridiculous statistic is entirely made up … but who's to say it's not accurate?