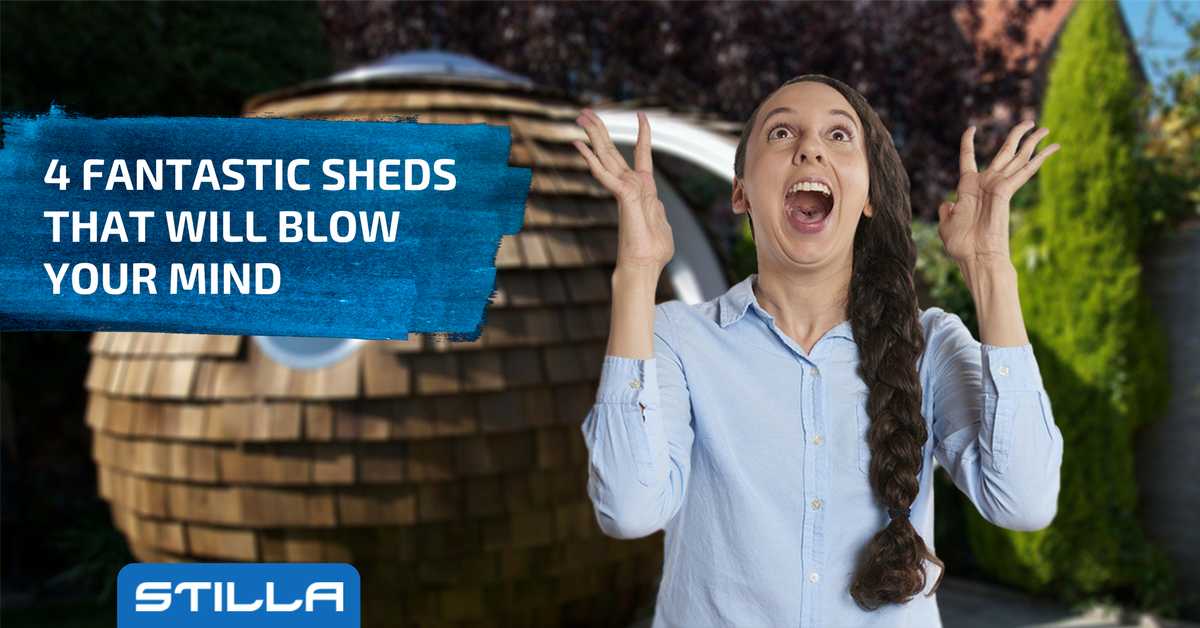 13 Dec

4 fantastic sheds that will blow your mind

We're practical folk here at Stilla. That's why we've spent years refining our shed kits to make them easier to manufacture, transport, and assemble, as well as more affordable, more durable, and more attractive.

At the same time, our goal is to be able to offer the right sort of shed to as many people as possible, which means we not only value feedback and take notice of market research, but also keep a close eye on innovations in shed design and building, worldwide.

While we're looking around, we often come across some amazing structures, so – at the risk of you deciding an extremely practical, sensible, value-for-money Stilla shed isn't fancy enough for you – here are four of the most fantastic sheds we've seen.
The archipod
No, this pod didn't just drop from a very, very large tree. It's the brainchild of York inventor Chris Sneesby, who was inspired by the work of an English TV gardener.
It's a curved plywood structural box with fibreglass insulation, that is fully plastered and decorated after installation, leaving no visible internal joints.
It's clad in Western red cedar shingles on a breathable membrane, and includes a one-metre diameter hinged roof done to maximise natural light and ventilation, as well as a porthole window.
Inside there's a three-metre long, curved desk, lighting and data points, as it's designed to be a home office.
We love the top-hinged, gull-wing door, too.
For more details, check out the archipod website.
Allotment roof Gaudi art shed
If you ever want to see what's possible with a bespoke design, check out the gallery of sheds, outhouses, garden rooms, and studios created by the London-based The Shed Builder.
It should be no surprise that what Joel Bird is capable of is showcased in his own solar-powered eco shed, which was named UK Shed of the Year in 2014 (among other awards).
Here's how the man himself describes his shed:
"It has a wood burner with heat plate, the ashes of which can be used to increase the potassium for the crops. Some 12v lights are powered by a south facing solar panel on the roof.
Outside, a staircase leads up to the allotment roof. The raised beds grow a whole abundance of fruit and crops, I even have a tin bath up there I use on hot days.
On the rear wall I have a bike station, with a small roof. Every space of the shed is used.
I really believe an outside space can transform the way you live your life."

aerieLOFT
Award-winning Toronto-based firm Breathe Architects specialises in environmentally-friendly, sustainable buildings.
aerieLOFT was designed as a separate outdoor room for display at the 2009 Green Living Show, and is made from eastern white cedar, a common native wood to Ontario.
Inspired by the simple elegance of the wooden canoe and the clean lines of ship design, its ribbed overlapping cedar plank 'roof wall' gives aerieLOFT its dominant shape. The opposing open floor to ceiling screen wall brings the outside in and expands the limited space.
Fully sheltered from inclement weather and insects, it also has a sleeping loft to experience the night sky without light or sound interference.
What's more, a separate white cedar water column and composting toilet allows for a total off the grid installation if you're more the cabin-in-the-woods type!
Modern multi-purpose garden shed
Dutch garden design company House of Green has come up with this extremely modern take on the garden shed, creating a real backyard oasis.
The minimalist design includes storage and work spaces, with an adjacent lounge area so that the whole family can work, rest, and play at the back of the garden.