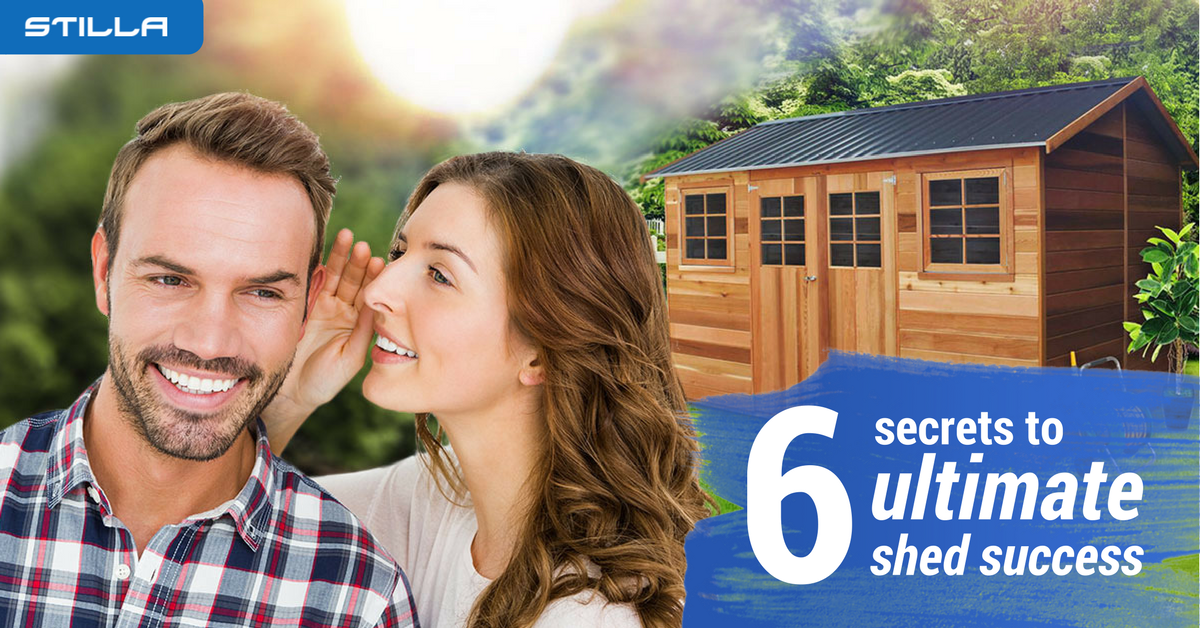 13 Sep

6 secrets to ultimate shed success

We've never made a secret of the fact that we really love sheds.

We also love dealing with people who are proud of their sheds – which we think every shed owner should be.

But we know a few things about sheds that not everybody does … and we've decided to share some of them with you (and only you)!
Position your shed to allow air to circulate
We've talked about ventilation before, and that's a very important consideration, particularly if you're going to be working in your shed for any length of time.
However, it's just as important to make sure there is some clear airspace around the outside of your shed, so don't place it too close to fences, the house, or large trees and shrubbery.
Having some space – at least about a metre – around the outside of the shed ensures that sunlight and wind can help it dry out more quickly after rain, and it makes it a lot easier to treat or paint the timber or make repairs, too.
Think long and hard about door size and placement
If you know that you're going to park your lawnmower in your shed, you've probably thought about making sure the doorway is wide enough.
But if you have a fair idea that you'll be carrying boxes and things in and out, we suggest you measure how wide the doorway needs to be to do that comfortably, without having to edge through sideways and/or take a bit of skin off your elbows every time.
Sometimes there's just no better option than double doors.
As for placement, a lot of people think that it looks neater to have a door in the gable end (one of the narrower sides), but that can mean it's a long way past a lot of other stuff to get things from the back of the shed.
It can be a much more practical alternative to put the door in the middle of the longer side wall so that you can more easily access items to the left and right as well as at the back.
A ramp might be useful
If you're storing anything on wheels, or need to be able to move anything heavy in and out on a trolley, consider a portable ramp.
They're pretty easy to move out of the way and store when not in use, and can be just what you need for some tasks, for example if you're potting in the shed, you might occasionally have a full wheelbarrow to wheel in or out.

Use the walls to keep things handy (and the roof to keep things out of the way)
Shelves are awesome. Stackable storage bins are also an efficient way to keep things tidy and not take up too much space. But what we really love is having the things we need within easy reach at all times, but not in the way of anything else we're doing in the shed.
There are a few ways to do this, but it basically means using wall hanging attachments to secure tools and other things you use regularly so they don't take up shelf space and have a dedicated spot where you can grab them and put them back with the least hassle.
If you have a few small tools that you use all the time, maybe you can build them their own shelf, use hooks, or brackets attached to the wall … or how about a magnetic strip?
And depending on what you're storing and how often you need to get to it, another thing worth considering is hanging some sort of shelves or brackets from the roof, so that you can keep some lighter or longer things up out of the way.

Adjustable shelves are more practical in the long term
If you have a particular plan for your shed, well done, but in our experience even the best original plans change quite a bit over time, as you start using your shed more and more.
So, while we don't exactly discourage fixed fittings, we suggest that you consider getting some adjustable shelves so that you can change the heights – and possibly even the number of shelves – as your usage evolves.
There's nothing more frustrating than deciding you need to store something and not being able to fit it in the spot you really want it to go.
Keep notes
Whether you use a blackboard, whiteboard, notebook, sticky labels, or Post-it notes, this is one hint that few people think of, but many could really use.
Have a place where you can write things down to remind yourself what needs your attention – whether in the garden, shed, or house – and significant dates, such as when you last fertilised the lawn.
Keep track of where you stored the things you need only occasionally (saves opening and closing a bunch of tubs or drawers – and giving up in frustration).
It's also a good idea to keep any instructions, warrantees, and other documents all in one place.
Those are our six tips for now, but we'd love to hear from you if you have any you'd be willing to share with your fellow shed users in a future blog post.