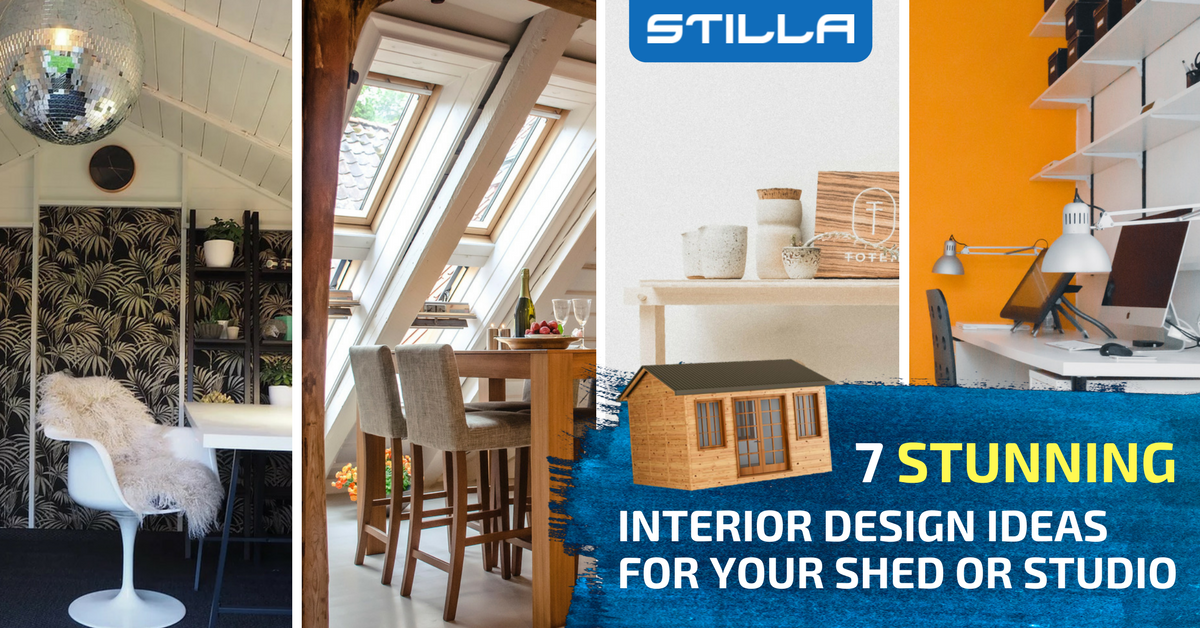 17 Jan

7 stunning interior design ideas for your shed or studio

Stilla sheds and studios look great, because Western red cedar is a beautiful wood.

But that doesn't mean that people don't want to add a bit of a personal touch, especially on the inside, and particularly if they're going to be spending a bit of time in there.

So, here are some interior design ideas we've come across that might inspire you.
Jenny's she shed glam makeover
This might not bee everyone's cup of tea, but we were very impressed at what Jenny Kakoudakis, from top UK design blog Seasons In Colour, did with her she shed.
You can see her entire blog post here, but in summary she used a polypropylene outdoor rug on the floor, some snazzy wallpaper and … a mirror ball!
As she says, "voila" (we think that's French for "nailed it")!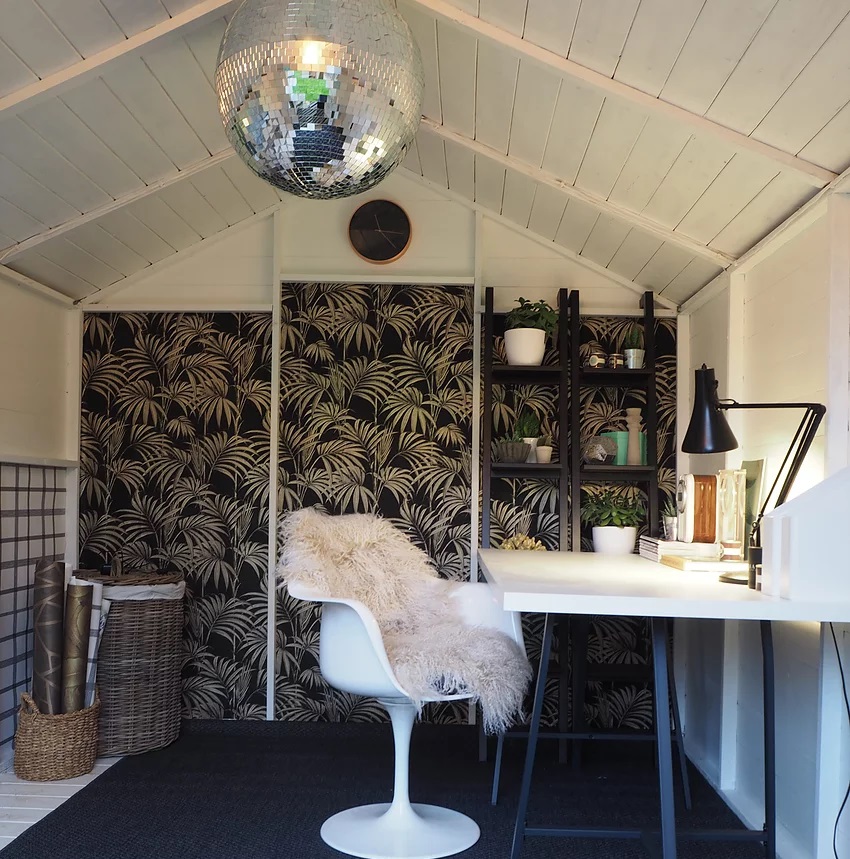 Jekyll and Hyde home office
This modern home office, from a kit by Colorado-based company Studio Shed, saw the client get creative on the inside.
Three of the walls were covered in basic drywall, but one was painted with whiteboard paint, while the opposite wall was something else entirely.
Check out that stunning tongue-and-groove wood panelling. Classy.
Dual desk and wood panel wall office
There's a lot to be impressed by in this layout.
Clever use of the space makes two desks fit quite comfortably side by side. You don't see that very often.
The wood panel wall, created with various reclaimed pieces, adds some real character and that ceiling fan makes a statement too.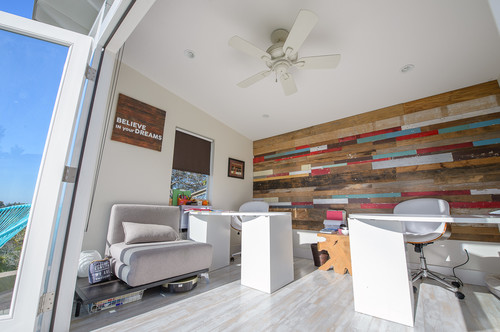 Full length built-in desk and comfy chair
One way to make the most of the limited interior space of a shed or studio is to build in a desk along one wall and keep the other walls clear.
Then you can make it really comfortable with a big armchair, a rug, and stylish heater. Nice.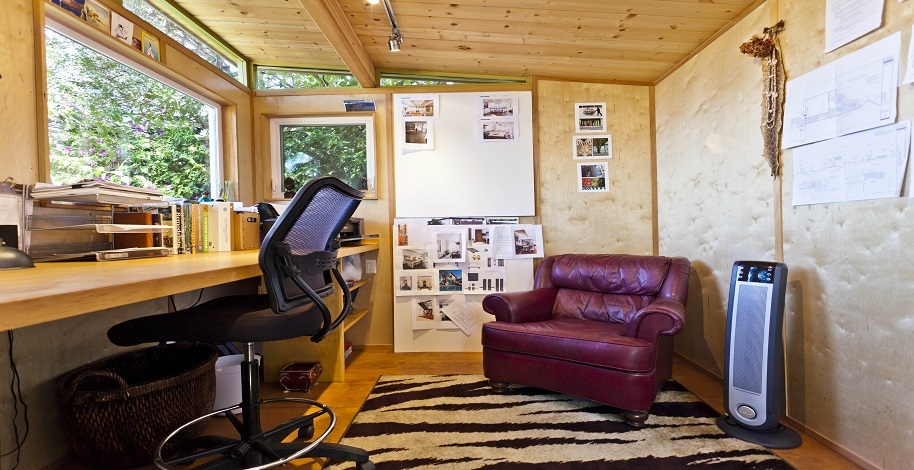 Light, bright, plywood interior
We're not sure whether this is classed as 'minimalist', because the entire interior uses just the one material – clean, light, and bright birch plywood – but it's particularly effective and striking. The massive skylight just makes it all the more other worldly.
Light inside, dark outside
This small corner shed office has a dark wood outside (and a bit inside around the full-height window at one end) and a very pale and light interior, including the ceiling.
Having the built-in desk made of the same wood as the wall behind it seems to make the space bigger, as does the computer screen being mounted on that wall.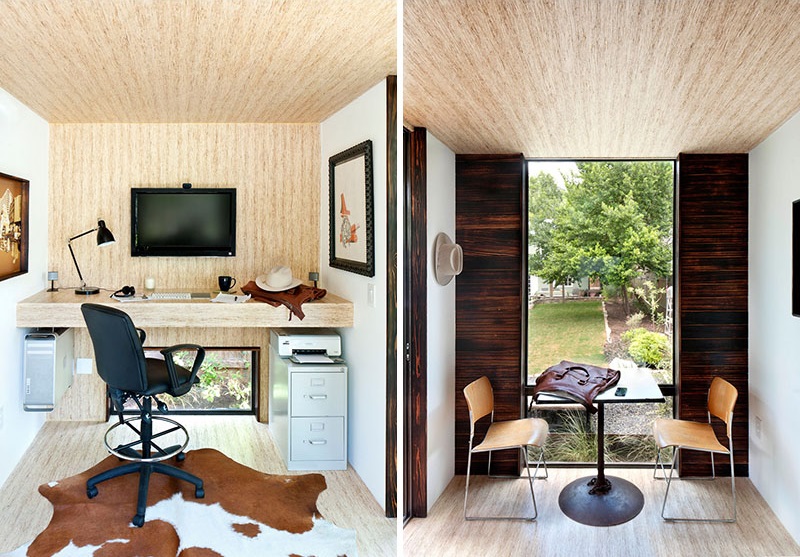 Pure white she shed makeover
We started with a she shed makeover so let's finish with another.
Admittedly, white might not be the most practical colour for a shed, but just look at how amazing this shed transformation is!
The beadboard walls, stained ceiling beams, and plush white sectional sofa make this she shed one you'd never want to leave.
You can read the full blog post on the making of this shed by Kristen Whitby on the Elle Claire Inspired website.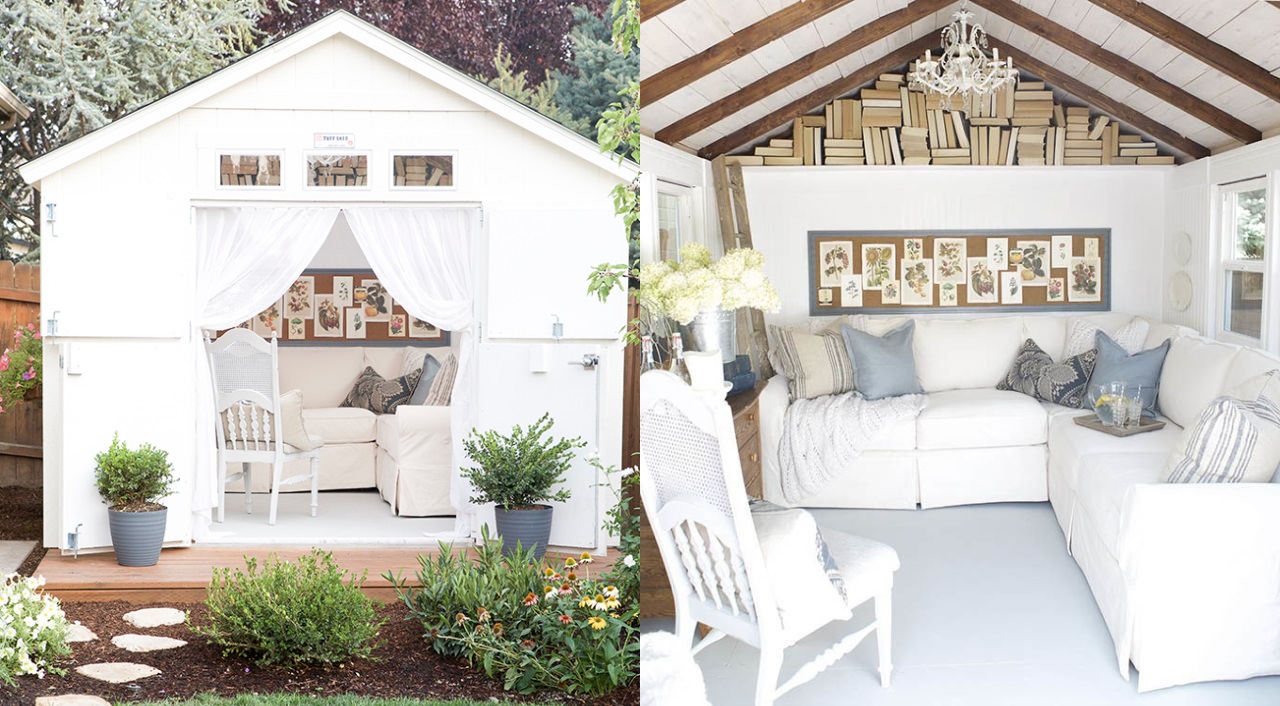 They're just a few fairly random ideas that caught our eye. There sure are some talented and creative people out there!
Whatever you do with your Stilla cedar shed or studio, we know you'll love spending time in it.
If you have done something special inside yours, please share some pictures and maybe a few notes on our Facebook page.