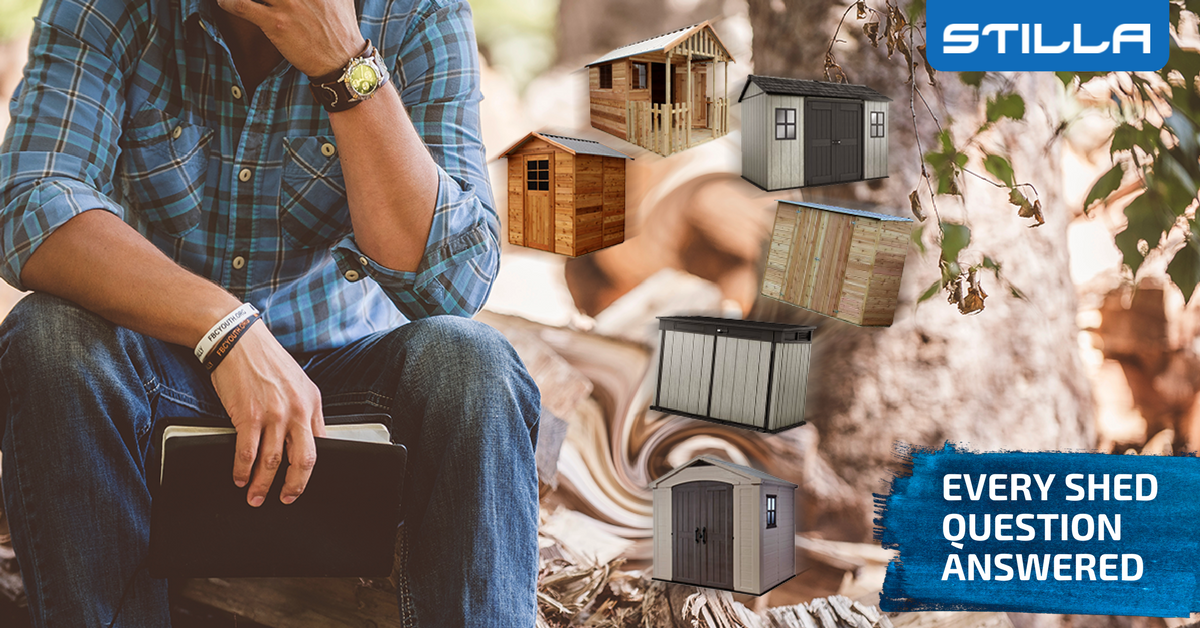 14 Feb

Every shed question answered

We do our best to cover a lot of ground in our Stilla blog. After all, we want you to be well informed so you can not only make a good decision about what shed, studio or cubby house suits your needs, but also how to make the most of your choice once you've made it.

We know everyone's situation is different and a combination of factors informs your shed choice.

So, to save you searching, here's a quick guide (with links) to some of our previous blog posts that might help you get the right shed, studio or cubby and use it happily ever after!
Before you buy your shed
In 6 things you should know before buying a shed we cover:
1. Local council rules
2. Weather conditions
3. Foundations
4. Positioning
5. Design
6. Purpose
In 3 things you should think about before buying a shed we also ask:
1. Is a shed right for your needs?
2. How important is appearance?
3. Are you comfortable doing it yourself?
In the 7-step guide to preparing your yard for a shed we offer advice on:
1. Location
2. Access
3. Orientation
4. Aspect
5. Utilities
6. Longevity
7. Preparation

Choosing the right shed and floor
It's no secret that we think a Western red cedar shed is the ultimate, but you might be wondering why. In For the love of cedar we explain just why it's the wood of choice for quality sheds.
Then we go on to give you The top 8 reasons to buy a cedar shed. We're not going to give the reasons away here, so you'll have to click on the link and read that post!
If you are going with a cedar shed, you'll definitely want to know How to choose the right floor for your shed.
But we don't want people to underestimate the quality, durability, and value-for-money of Keter's fantastic range of sheds and outdoor storage solutions, either.
That's why we got Henry Reich from Outdoor Furniture Northside to give us a great insight into why If you haven't considered a Keter shed, you're short-changing yourself!
Ultimately, we suggest you don't buy a shed without this 10-point checklist:
1. Size
2. Access
3. Clearances
4. Roof type
5. Flooring
6. Ventilation
7. Power
8. Storage
9. Safety
10. Appearance

Making the most of your shed
Whether you've already got a shed or are about to get one, it's well worth getting some tips on how to maximise your usage and therefore how much value a shed adds to your life.
For a bit of advice on setting up your shed just right, check out our 6 secrets to ultimate shed success.
Because six is apparently our favourite number, we also dug up 6 inspiring shed ideas to show you what some other people have done with their sheds … and then we went one better with 7 stunning interior design ideas for your shed or studio.
Then there's these tips on how to Make your shed even more functional with a few accessories.
Meanwhile, if you're looking to Power up your shed, here are your options.
What about studios and cubbies?
Yes, we write about sheds a lot. In our defence, there are a lot of people buying sheds and there's a lot we want them to know.
However, as we've added cedar studios to our range, we've now got a bit more for you to consider, starting with Why a studio could be a perfect fit for you.
If you (or, perhaps, your partner) need some convincing, we simply say: Work from home. Everybody's doing it. Or, if you don't know anyone else who's doing it, why not Be a trendsetter with a Stilla studio.
Then there's the theory that the family that plays together hangs together, which brings us to our cubby house range.
After all, Cubby houses are for little kids, sheds are for big kids! But don't just take our word for it, read Alex's story of how A cubby has changed our lifestyle.
But wait … there's more!
We've given you the topics of and links to around half of our blog posts, but feel free to keep reading as many as you want.
Remember, if you have any questions at all, we're only an email or phone call away.
Just in case you're not 100 per cent convinced yet, we'll leave you with 21 reasons you need a shed. Enjoy!