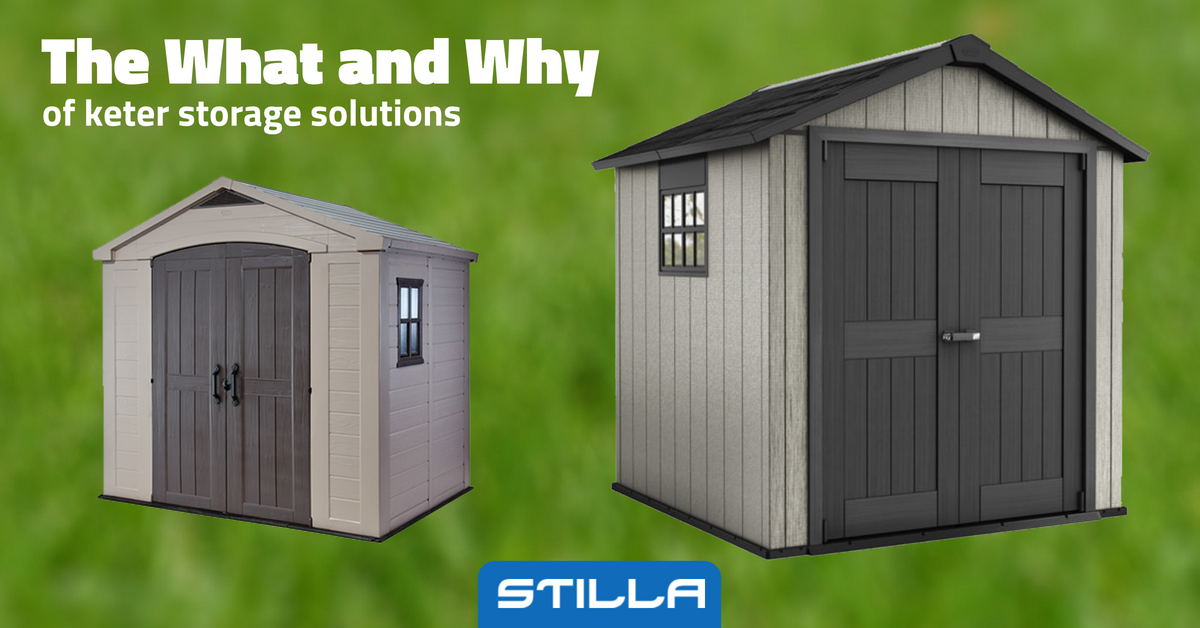 11 Jul

The what and why of Keter storage solutions

We've built our reputation on making the best quality, best value, easiest to self-assemble, longest lasting, most attractive Western red cedar garden and storage sheds available in Australia (with the best customer service).

It's something we're extremely passionate about and have dedicated ourselves to.

So, why have we supplemented our own extensive range with Keter products?

It's quite simple: like Stilla does when it comes to cedar sheds, studios, and cubby houses, Keter makes the very best non-wooden outdoor storage products.

Keter's outdoor storage solutions – from chests and cabinets to sheds – are practical, good looking, extremely well made, and incredibly durable.
Ideal for Australian conditions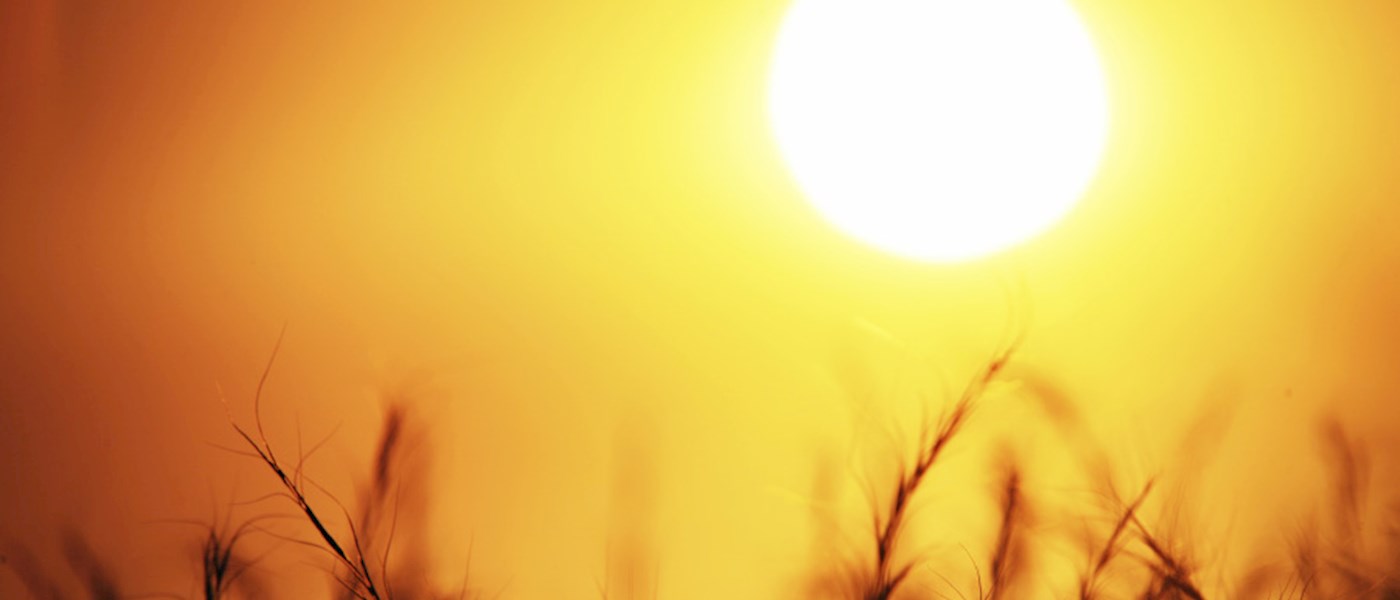 Don't dismiss Keter products as 'plastic'. They're the furthest thing from that old plastic garden setting you once had – before it became brittle and bits started snapping off.
Keter uses a specific type of UV-treated polypropylene that's as durable as your wheelie bins – but far more attractive.
As Henry Reich, owner of Outdoor Furniture Northside told us a few months ago:
"Just think about how durable your wheelie bin is and how much it withstands from the harsh Australian climate."
Henry also pointed out that, unlike metal sheds, you don't have to worry about warping or rusting with Keter sheds:
"These are a lot more waterproof because the floor and walls and roof are all connected, as opposed to the metal ones with the pop rivets where you can't keep stuff on the floor in case it gets wet."
Internationally recognised and awarded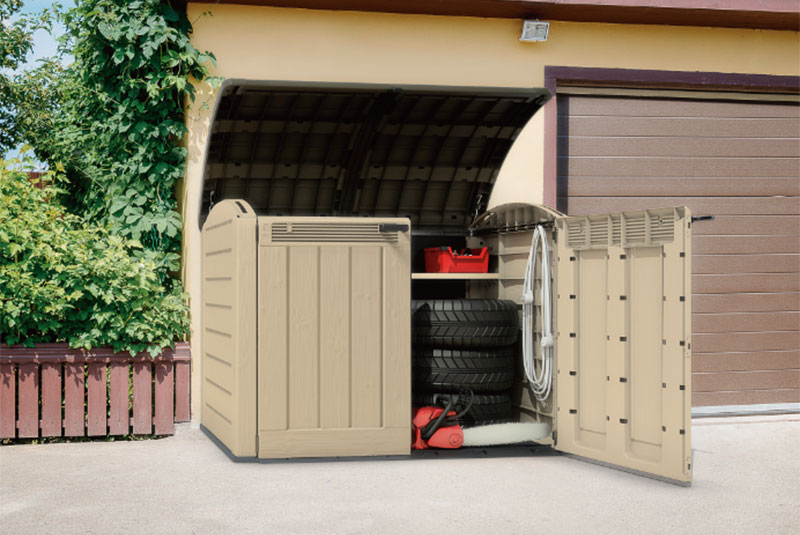 The Keter Group has been operating for over 60 years, and now has 18 factories in nine countries, and distributes through some 25,000 retail outlets in more than 100 countries.
Sure, some of those countries have very different climates to ours, but that also means some of them are even harsher. In some places, the sun bakes exposed surfaces all day, and then the temperature drops significantly once night falls.
Keter has won several international product and design awards, including the Red Dot Design Award (2010, 2011 and 2013), ID Annual Design Review (2010) and DIY Product of the Year (2010).
In its country of origin, Keter became the first exporter to win the Export Award of Israel twice, in 1991 and 2013. That's an award for exceptional and decade-long contribution to Israeli export.
Something for everyone
While we're convinced as to the quality and durability of Keter products, and most people are pretty impressed with their practical and attractive design, the other thing that makes Keter a perfect fit alongside Stilla's own cedar products is usability.
By that we mean that whatever you need to store outdoors, there's a Keter product to suit.
There are several very neat and compact garden storage boxes, starting at just $99 for the Comfy, which comfortably seats two adults on top of its 270-litre storage capacity. With built-in handles and wheels, and able to be assembled in just five minutes, there's little wonder these stylish storage boxes are so popular.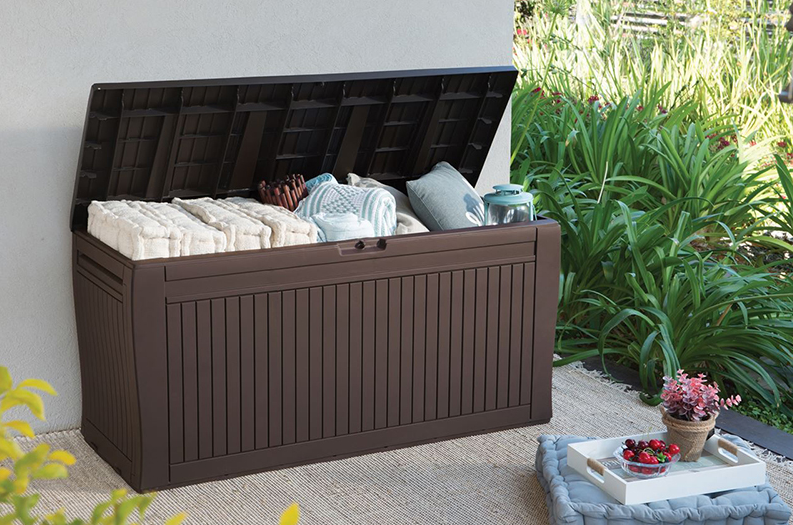 Then there are storage cabinets, like the Optima mini-cabinet, which are ideal for storing things like gardening needs (fertilizer, weed killer, spare pots) or pool-cleaning materials, and the Store It Out range, which keep contents – for example, wheelie bins – dry, ventilated and stored neatly.
We also love the BBQ Entertainment Unit, with its stainless steel top and handles, casters for portability, and secure double-door cupboard. And you've probably never seen anything quite as convenient as Fence-In-A-Box!
All that without even looking at the impressive range of Keter garden sheds.

Choose the products that suit your needs
As we've said before, we think every garden or outdoor area is better when it has a shed, but it's important to choose the outdoor storage solution that works best for you.
It's only partly about the available space and the aesthetics – important as those are.
Make sure you really think about how you'll be using your box, cabinet, or shed, and don't compromise by getting something that you'll either not fully utilise or that you'll outgrow in a year or two.
If you choose the right thing, it'll enhance your lifestyle and enjoyment of your backyard (or other outdoor space) on practically a daily basis.
Give us a call or drop us an email if you have any questions or need any advice. We're committed to helping you get the best outdoor storage solution.