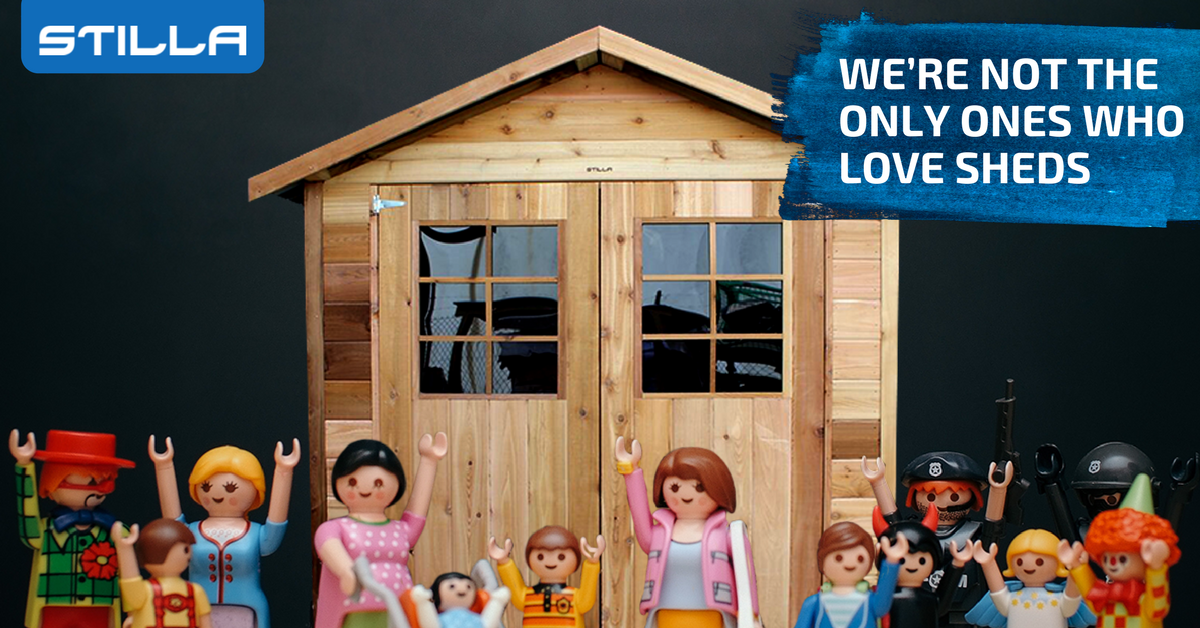 31 Jan

We're not the only ones who love sheds

If you've read more than the odd previous blog post, you might have picked up on the fact that we really love sheds.

We also love (in no particular order);
when people choose a Stilla shed;

when we hear from or about people who have a Stilla shed and love it;

when we see any shed owner talking about how much they love having a shed;

when anyone, anywhere talks or writes about the joy of sheds.
In fact, we love that last one so much, we went searching for some shed-loving thoughts and comments, and here they are:
Clare loves her shed because…
"It's a haven to us all where we can play music, games, read, paint or have a coffee with friends. We all put so much work into it. It has electricity, with a little fridge and heater so we can use it all year round. It's the perfect place to escape to for a little peace and quiet."
Judi loves her shed because…
"Time means nothing and escapes me in this familiar structure. Minutes and hours pass, and I am totally in that moment more than at any other time."
Elaine loves her small pottery shed because…
"I think it's beautiful. It's covered in Virginia creeper and twisted willow. I sit in here for hours at the weekend making pots and plates. I've even held three tiny art exhibitions in it."
Moosey loves his shed-with-a-bed because…
"I love the animals in my garden. In fact, I think I prefer watching and listening to nature than people. Like those ducks, gliding past the fishing gnomes on the water's edge, making baritone quacking noises."
Debi loves her shed because…
"It's my space and my mess – and I know where everything is."
Linda loves her "cute" potting shed because…
"It is functional, it is heaven on earth. Every moment I spend in my potting shed is pure pleasure– whether I am potting, pruning, watering, reading, planning, dreaming, designing, writing or just enjoying the view, I have simply never had an unhappy moment in my shed!"
Elizabeth loves her shed because…
"It is my space and I can't believe how lucky I am to have that, and everything in it…"
And what a lot she has in it!
"The shed is now warm (two heaters in here), well-lit (proper lights and fairy lights AND a desk lamp) and cosy (comfy Ikea chair and footstool for when I have visitors, or for when I want to sit and read rather than work at my desk). It has book cases, stationery like you would not believe, a whiteboard (which fell off the wall the other day – I nearly wet myself with fright), coat pegs, a kettle, a biscuit tin shaped like a big old book, and a coffee machine."
And maybe Michael says it best…
Michael describes his shed as "strictly an 8ft x 6ft garden office…where I work, think, potter and play."
He had it installed when the arrival of a second child meant he was "unceremoniously hoofed out" of his home office, "replaced by cots, cuddly toys and other cute ephemera".
"Now I can't imagine life without it," he enthuses.
"I love it in spring, when the garden comes to life before my procrastinating, wandering eyes. I love it in autumn, when I kick through russet leaves on my way down the path. I love it in summer with the door open (except when curious wasps buzz in and start boinging off the walls). I love it in winter, with rain pittering on its tin roof (except when I get one really hot leg from my under-desk radiator and momentarily think I'm having a stroke)."
A shed for all seasons. How poetic.
Why do you love your shed?
We can't get enough of people explaining – or, at least, trying to explain – their love for their sheds.
If you'd like to have a go, we'd love to read it and share it, so post your "I love my shed because…" on our Facebook page.