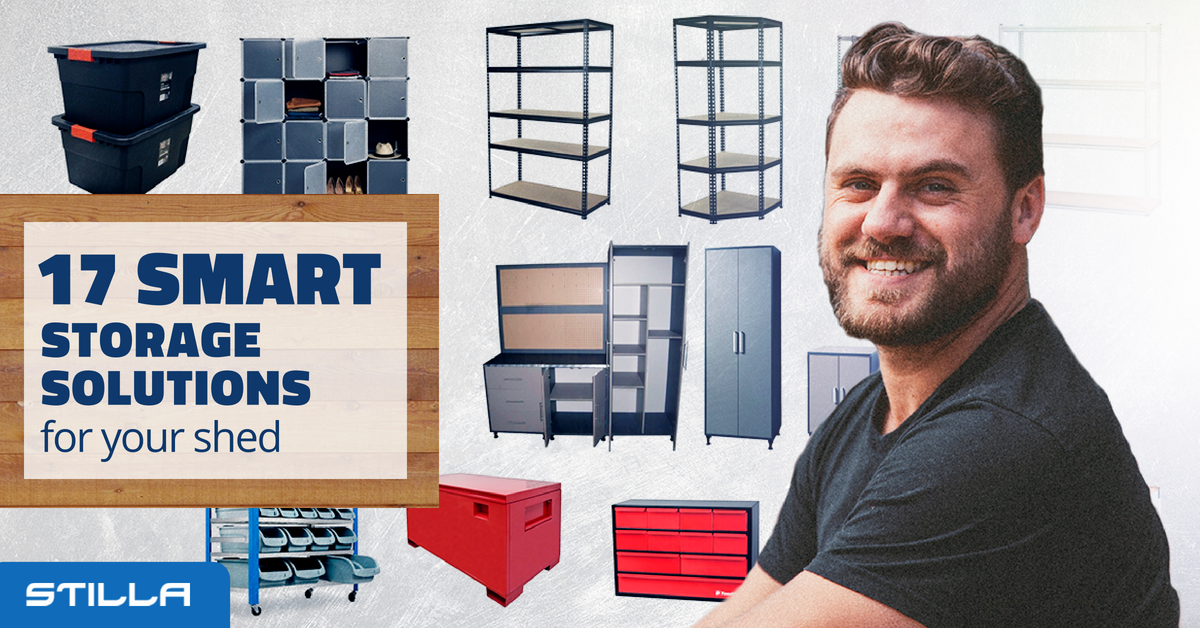 24 Jul

17 smart storage solutions for your shed

Getting a backyard shed is the first step to getting all of your stuff organised. But it is only the first step. You can't just chuck everything in there, willy-nilly.

Keeping in mind that we've all got different stuff and different ways we use our sheds – some of us spend more time inside them, some use them for storage only – we've searched out a bunch of storage solutions that could be just right for you to keep your shed stuff in some sort of order.
Shelves
The obvious starting point is shelves, and we recommend using fairly heavy-duty adjustable shelving. It should be strong enough to handle most things that you can lift onto a shelf while allowing you the flexibility to have some bigger items on the lower shelves.
We also think it's better to have solid shelves (as opposed to chrome wire ones) so that anything small or narrow doesn't literally slip through the 'cracks'. Consider how deep the shelves need to be so that you don't get a set that stick too far out, taking up valuable space.


Cabinets
While open shelving works best for some things, there's a good case for storing some stuff in a cabinet, particularly if you're doing some messy work (even sawing, throwing off sawdust) and you want your best tools or other items protected.
A lockable storage cabinet can also be the best option for safety and security, for example if you have any potentially dangerous items that need to be inaccessible to the young and curious.
You also have the option of full-height cabinets or lower-profile ones, which offer the bonus of a shelf-like top where you can store and easily access things at a handy height.

Drawers
A full set of drawers might not be the most obvious storage solution for a shed – we tend to think of them as more of a bedroom, kitchen, laundry, or office staple – but they can be useful for storing a whole range of smaller items.
Alternatively, you might find a smaller set of drawers that can sit on a shelf or bench extremely handy and more than enough for your odds and ends. Then there's the option of drawers on wheels, so they can sit under a bench until you need to bring them out.


Boxes, bins and tubs
Compartmentalised storage bins are the ideal way to organise the fiddly things, from nuts, bolts, and washers, to labels, twist ties, and bulldog clips. Larger, stackable tubs give you a flexible, expandable system for storing things of various shapes and sizes much more neatly.

A bit of everything

We stumbled upon this combo from Modern Furniture which incorporates a tall cabinet, a lower-profile cabinet, a set of drawers, and a pegboard. It looks to be a pretty complete solution for storing and organising tools and everything else.

Disclaimer: Apart from the Keter products sold by Stilla, we have no affiliation with – nor do we endorse – any of the above products or businesses. The information in this blog post is intended as guidance and inspiration only and should not be taken as a recommendation.
Note: All prices correct at time of publication.