11 Dec

What makes a cedar garden shed the best choice?
There are nearly as many types of sheds as there are things that you can do inside one, so how do you choose?
If you want to get a top-quality shed, one made of cedar is vastly superior to one made from any other material.
Here are a dozen reasons that make cedar by far the preferred wood for garden sheds, storage sheds, and especially sheds people work in.
Cedar is very durable
Cedar contains natural preservatives that make it resistant to insect damage, decay, and the sort of harsh weather conditions that we get in Australia.
Cedar is extremely attractive
A cedar shed adds to the aesthetics of any garden and, by extension, the value of a property.
Cedar has great thermal insulation qualities
Western Red Cedar is an excellent thermal insulator, outperforming brick, concrete and steel. By resisting the extremes of temperature, it helps keep the garden or hobby enthusiast warm in winter and cool in summer.
Cedar is an excellent acoustic insulator
Because noise is contained and reduced by the acoustic properties of cedar, if you're doing some noisy work in your shed, you're not disturbing the rest of the family or your neighbours!
Cedar is naturally aromatic
The natural fragrance of cedar is very pleasant and as it doesn't need to be treated with any preservative chemicals or waterproofing agents, you'll be smelling all-natural odours.
Cedar resists warping and shrinkage
Canadian Western Red Cedar has outstanding dimensional stability which is essential for a timber product to maintain its shape during its life, especially when used outdoors.
Cedar is termite resistant
Termites stay away from cedar because the naturally occurring oils are toxic to them. Some other insects are repelled by the natural aroma of cedar.
Cedar is easy to work with
Because cedar is lightweight but strong, has a fine, straight grain and uniform texture, and is resistant to splitting, it's easy to add shelves, screw in tool hangers, and make whatever modifications and additions you want. 
Cedar can be painted
If you do want to change the appearance of your shed, either inside or out, cedar provides an excellent base for all types of paints and stains.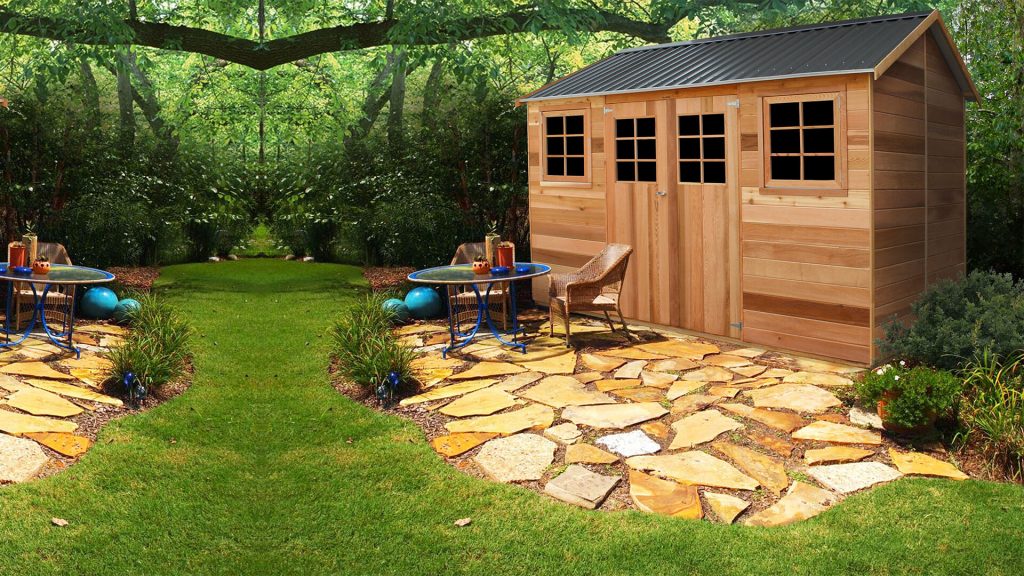 Cedar sheds come with floors
There's no need to lay down a concrete slab because you can get a cedar shed that comes with a heavy-duty floor, for uneven surfaces, or a rebated floor if your ground is level.
Cedar sheds are easy to assemble
Our Stilla cedar sheds come in panel form, and we've made those panels smaller to make them easier to transport and handle. All you need to do is screw the panels together.
Cedar sheds offer several options
It's easy to customise your shed with things like an additional opening window, a skylight, a loft shelf, a lean-to or annex, and the colour of your Colorbond roof.
Stilla has a great range
There are more than a dozen sheds, from small (6 x 3) to large (16 x 8) in the Stilla range.
The Willow 12 x 8, on display in selected Bunnings stores, is one of our most popular sheds, partly due to it's roomy dimensions and partly because the colonial-style double doors with opening windows either side make it an extremely attractive addition to any garden view.
Find out all about Stilla's cedar shed range here and don't hesitate to get in touch if you have any questions.