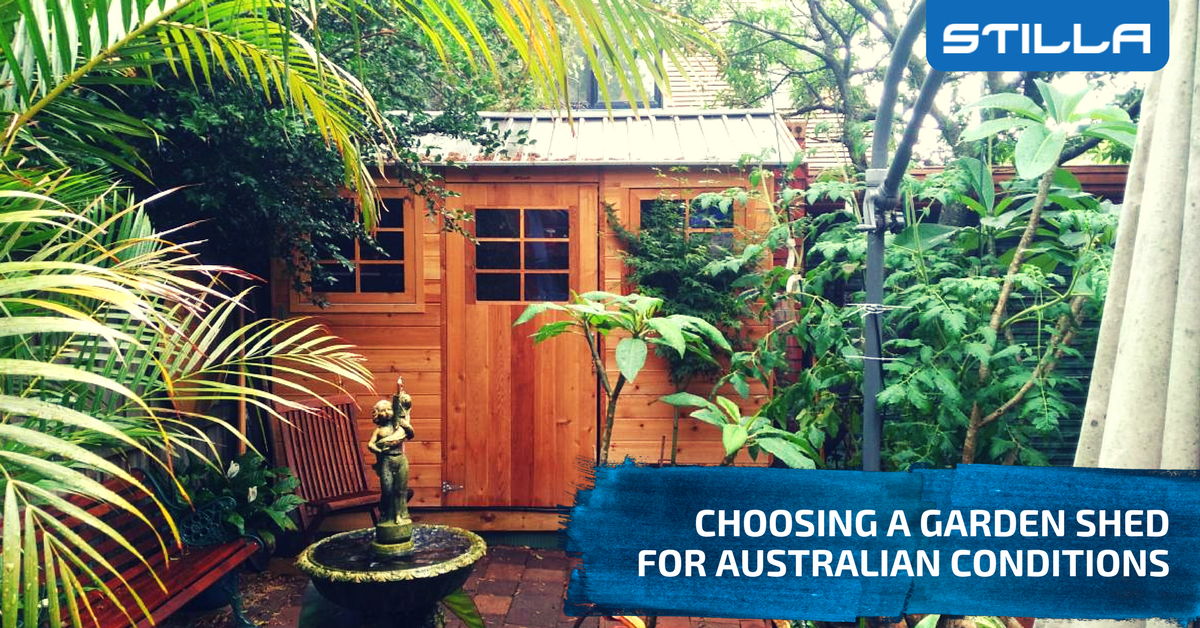 21 Feb

Choosing a garden shed for Australian conditions

As much as Australia has a long history of sheds and a deeply ingrained 'shed culture', garden and backyard sheds have come a long way from the days of our grandparents.

Just a couple of generations ago, every suburban house had a shed of some sort. In many cases more than one. The traditional 'quarter-acre block' had plenty of space out back.

In the days when a lot of garages didn't fit much more than the family car (some passengers had to get out before the car was parked, because garages weren't always wide enough for car doors on both sides to be opened), most houses had a tool shed, at least.

Some also had a storage shed, for things like bikes, suitcases, and stuff you didn't need all year round. Where gardens were more than decent-sized, it wasn't unusual for a shed down the back to be dedicated to pots and plants and fertiliser.

On top of that, those with open fires often had a woodshed. You know, where they literally stored wood.
What's changed?
You might ask "what's changed over the past 50 years or so?" but it's more likely that you're well aware the answer is "pretty much everything"!
Our lifestyles have changed significantly. For one thing, most houses are heated through more efficient (and less labour-intensive) methods than open fires, meaning we see fewer woodsheds.
Garages have changed, and a lot of houses built over the past two or three decades not only have more space for cars, but more room for storage of other items, as well.
We're pretty sure what we use sheds for has changed, too, with more and more people spending extended periods in their sheds and using them for a much wider range of purposes than keeping their lawnmower and garden tools safe and dry.
But the most significant advancement in garden sheds and, in fact, all outdoor structures, is in the materials and construction techniques used.
The best shed materials
The old tin shed ain't what it used to be!
While you can still see some wonderful examples of farm sheds – hay sheds, wool sheds, tractor and machinery sheds – all over Australia (we picked a couple of stunning ones for our post Let's take a couple of minutes to celebrate sheds), we've moved on from tin in most suburban backyards.
Well, that's not entirely true. There's always going to be a market for the cheapest option, and as Henry Reich from Outdoor Furniture Northside told us a couple of weeks ago:
"Australians have traditionally had steel sheds … but many don't know that there's a much better option."
There are, in fact, two much better options: cedar sheds and Keter sheds, made from UV-resistant polypropylene.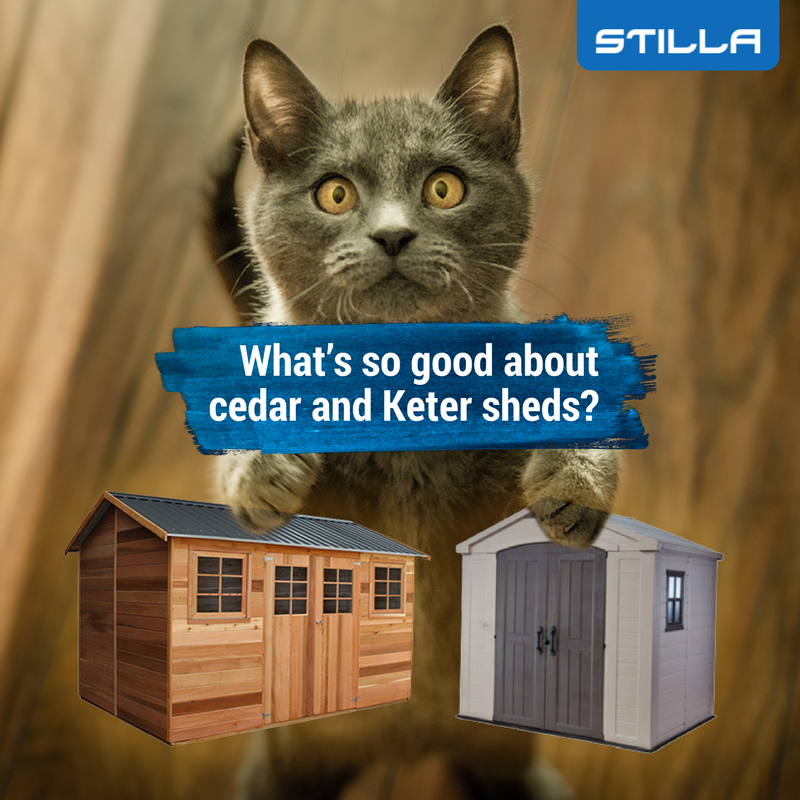 What's so good about cedar and Keter sheds?
Stilla is an Australian company, based in Queensland, and we've spent years developing our product range specifically for Australian conditions.
We know what it takes for an outdoor shed to cope with extremes from high humidity to frost, from strong winds to blazing sunshine.
Western red cedar has excellent thermal insulation properties, which is essential if you're going to be spending any time in your shed, either in hot or cold weather.
It's also aromatic (nicer for noses!), a great acoustic insulator (nicer for ears), attractive (we like looking at wood), easy to work with, extremely stable, and resistant to rot and termites.
You can read more about why we favour Western red cedar in the post For the love of cedar.
When it comes to durability, cedar is all but matched by the UV-stabilised polypropylene used by Keter in making its fantastic range of garden sheds and outdoor storage solutions.
As Henry Reich told us, think about the material as being similar to that used to make wheelie bins … and then think about 100 times better to look at!
Importantly – and this is a vital for some shed owners in some locations and situations – both cedar sheds and Keter products are very water resistant, with the rebated floor in the cedar sheds and the moulded floors that are a feature of the Keter range.
Just have a look
A lot of the feedback we get about our sheds is that they're so attractive. We can talk up the fabulous qualities of Western red cedar and/or UV-stabilised polypropylene as shed-building materials, but we get that a lot of people won't opt for the best if it doesn't also look great.
Check out our product range and if you don't think one would look awesome in your backyard, we'll have to take that (but we really don't think too many people will come to that conclusion).
Yes, looks aren't everything, but when so many other things stack up so well – including the value for money of a shed that'll last for years – and they look stunning, we're ticking every box.
We also promise customer service that's second to none, so give us a call or drop us an email if you have any questions … or just go here to find your nearest stockist.