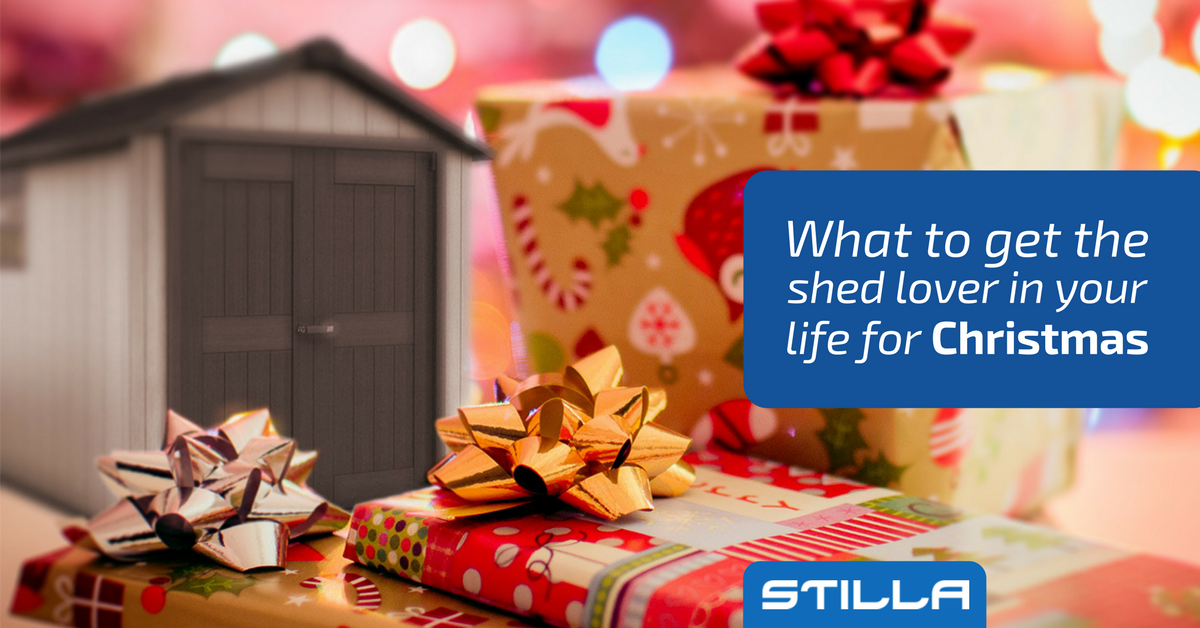 30 Nov

What to get the shed lover in your life for Christmas

We don't mean to alarm you but … Christmas is coming – fast!

That's right. You've got less than a month to choose, find, and get Christmas gifts for your loved ones and close friends.

We suggest treating yourself to a new Stilla shed and giving your kids a Stilla cubby.

But if you know someone who already has a shed, here's the Stilla Christmas gift idea guide (all suggestions are linked so you can click to see more).

It's not quite the A to Z of shed gifts, but we'll pretend it is!

A. Alarm – A wireless motion-sensor alarm is easy to set up and ideal for scaring off any would-be thieves to protect valuable tools and precious man cave memorabilia or she shed collections.

B. Bird feeder – Aussie company Nature Mates not only has awesome bird feeders, but you can get the right advice on what type to get for your regular backyard feathered visitors.
C. Bluetooth speaker – In case you're messy in the shed, or want to use them outdoors, here's a recent review of the best waterproof wireless speakers (and, just for something a little novel, we found some that are disguised as rocks!).
D. Citrus knife bottle opener – If, like us, you don't mind an adult beverage with a slice of lime, the Citrusaw is the bottle opener/citrus-slicing blade you've always wanted.

E. Clock – For a loved one who loses track of time when he or she is out in the shed, there's a few options, including the Time to grow potting shed clock, Gardener's potting shed clock and She Shed custom name clock.

F. Cushion – There's nothing wrong with getting comfortable in your shed. Options include a personalised She Shed cushion or even a wood log look pillow.
G. Electronic insect killer – Anyone who spend time outdoors in Australia gets up close and personal with insects, so why not zap them? Here's an article listing some pretty good ones – our favourite is this solar-powered one.

H. Gardening gift box – these gardening gift boxes from the Potting Shed are really well thought out and packaged (and save you thinking too hard)
I. Keyring – This is a pretty simple idea, but if you have a lockable shed, probably a must-have item. Choose from wording like I love my She Shed, I love tools and My shed keys, or order a personalised wooden key ring.
J. Kneeler – For anyone who spends any length of time on their knees in the garden, it's hard to go past the Burgon & Ball Kneelo kneeler for comfort. It's waterproof, durable, and ultra-shock absorbing.
K. Mug – Perhaps you could bundle a mug with a keyring? We found wording like Shed your stuff don't stuff your shed and I love my She Shed, as well as this personalised garden mug you can add a name to.
L. Outdoor TV – We admit, this idea might not be for the shed itself – more for your outdoor entertaining area – but we've found a few Aussie companies that specialise in making TV's glare-resistant, weatherproof, bugproof, secure, and otherwise protected from the elements. Check out what Liquifi, Yardware, and SealTV have to offer.

M. Personalised name canvas print – The ideal way to celebrate a She Shed: a personalised wrapped canvas print to hang on the wall
N. Personalised shed sign – There's a wide range of options on Not On the High Street, including different shaped wooden ones, slate ones, ones for hanging on doors or walls, and even a neon light box!
O. Personalised watercolour illustration – What a thoughtful, personalised gift idea! Send a photo and get a hand-drawn, painted likeness of the shed.

P. Print, photo or poster – Something to hang on the wall, either in the shed or inside the house, to remind you your favourite place is just outside! Some of the options are the D.I.Y Master personalised print, Everything in its place, and Garden Shed.

Q. Robot lawnmower – Some people love mowing the lawn. We know a lot of other people! If you're wondering about the case for robot lawnmowers, here's a review of the top ones available now. You can get them for under $2000, including from Australian Robotic and Husqvarna.
R. Solar radio/flashlight – There are quite a few 'emergency' type solar powered and hand-cranked radios on the market. They're great for a shed that has no power and don't chew through batteries. We like the Freeplay TUF, the Midland ER300, and the FRX2 emergency radio from the Australian Red Cross.
S. Solar shed light – Solar-powered lighting is a great idea for outdoor areas including sheds. Kogan has wall-mounted motion-activated lights, there are a few on ebay – including this hanging pendant lamp with remote control – while we really like this compact LED solar shed light, too.

T. Tin sign – If you think a print or poster is a bit fancy for a shed, how about one of the tin signs we found on Gifts For Blokes? There's some motorsport ones, some old-school servo ones, and a couple for those who have an affinity for a particular beverage!
U. Tool storage and shed tidy boxes – The Potting Shed has a great range of tool storage and shed tidy boxes.
V. Traditional wooden trug – We're not just checking if you're still paying attention (you are, aren't you?). A trug is for carrying freshly picked fruit or vegetables.

W. T-shirt – Every shed lover should wear his or her love proudly. Among the t-shirt styles available are Shed your stuff don't stuff your shed, What happens in the shed stays in the shed, and I'm not the most colourful tool in the shed …. Get one for yourself, too.

X. Twine in a tin – You always need string, and it's almost always hard to find or tangled. This classy Burgon & Ball twine in an enamel tin comes in four colours (the tin, not the twine!).
Y. Vacuum drink flask – One of the best looking vacuum flasks we've seen, this one has some gardening quotes to read as you take a tea break at the bottom of the garden.
Z. Weather forecasting device – There are weather vanes and barometers … and then there's this Fitzroy's storm glass weather-forecasting device. If the liquid is clear, clear weather is coming, and if it's cloudy … well, we think you'll figure it out!
We hope that's given you a few good ideas.
Feel free to drop us a note if you take up one of our suggestions.
Happy shopping.