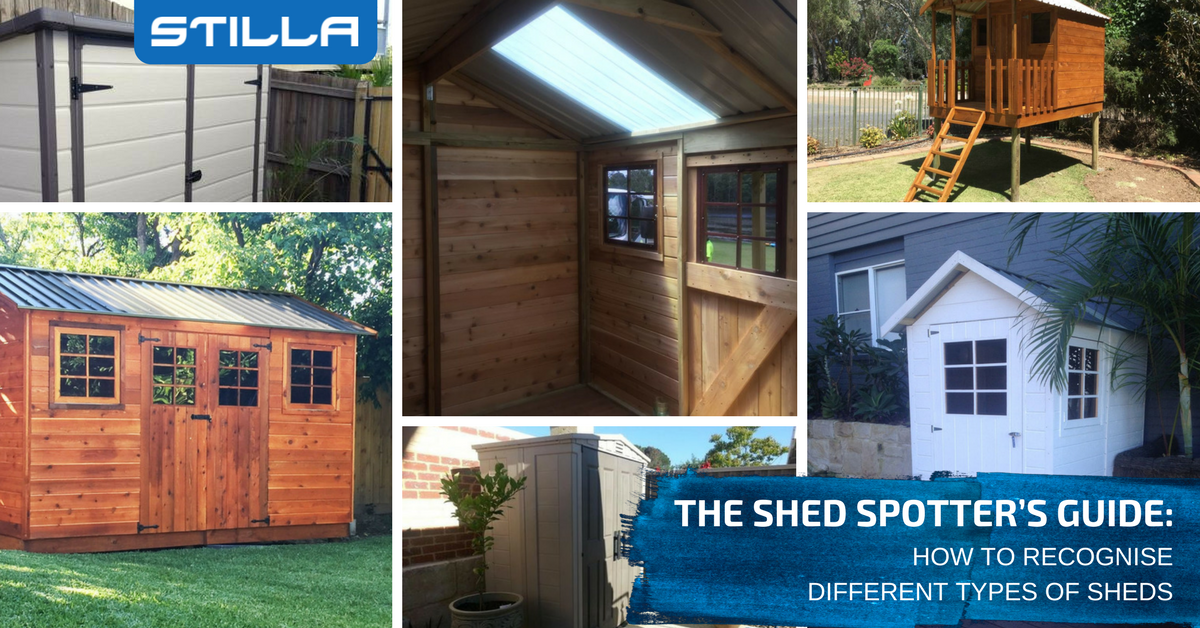 21 Mar

The Shed Spotter's Guide: how to recognise different types of sheds

If you're not into sheds like we are, we can imagine it could be a little confusing figuring out what sort of shed you need.

There are industrial sheds and farm sheds, tool sheds and work sheds, storage sheds and garden sheds, small, windowless sheds and larger, comfortable, attractive sheds suitable as a home office or creative studio space.

There are sheds made of timber, steel, and plastic, sheds built onsite from a kit, sheds that come complete, and bespoke sheds constructed like a small house.
Storage sheds
Storage sheds tend to be on the smaller side, because people use them primarily as a large, outdoor cupboard. They generally have some solid shelves, and a bit of floor space for things like a lawnmower, a couple of bikes, and other seasonal recreation equipment. Depending on the climate, some people put their outdoor furniture away in a storage shed and only bring it out when needed. Most storage sheds have no windows, although some have a skylight to make it easier to find what you're looking for.
Tool sheds
Tool sheds are more likely to be in the mid-size range, because they need to combine storage space for a range of items with enough room for a workbench (and for the owner to stand at that bench). They usually have at least one window over the bench to allow some natural light in, and some of the wall space is dedicated to a pegboard or shadow board for hanging hand tools within easy reach. The best tool sheds are made of wood (like Western red cedar) because it's much more comfortable to work inside a wooden shed in all temperatures, not to mention it's a lot easier to affix things like hooks, brackets, and boards to.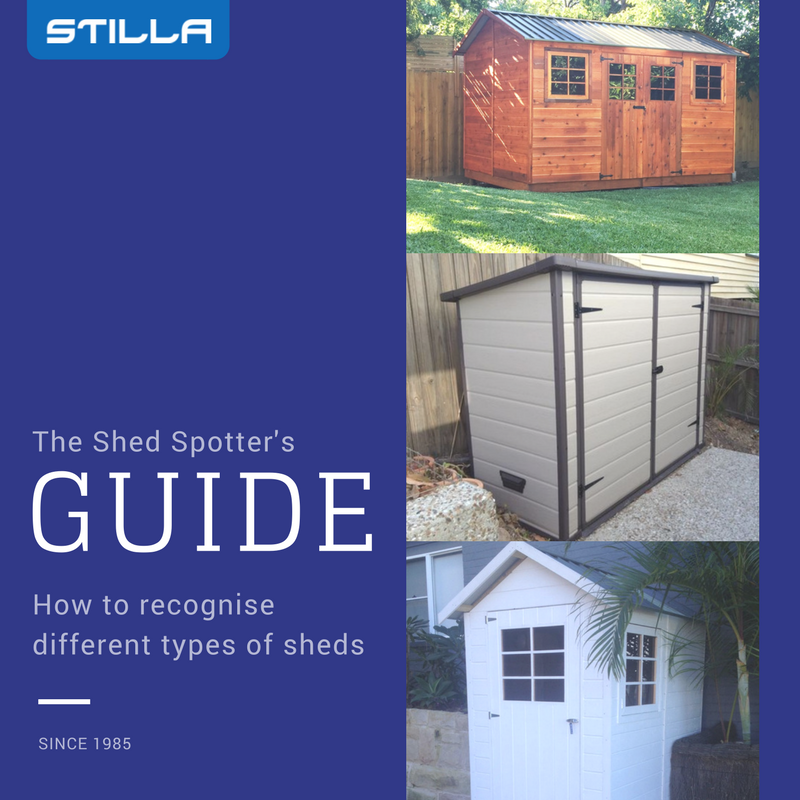 Work sheds
Work sheds are a step up from tool sheds, in many ways. Whereas a tool shed is designed mainly for storing tools neatly, safely, and in an accessible way, but may also allow space to do some work, a work shed is designed first and foremost to (you guessed it!) work in. Because that's their intended purpose, a lot more consideration is given to the space, orientation, and general comfort level of the owner, as he or she will most likely spend several hours in there at a time. Of course, the ease of storage of tools and materials is a key factor, but if a work shed doesn't have the right space and surfaces, it's going to discourage rather than encourage productivity.
Garden sheds
Garden sheds are a sort of hybrid of storage, tool, and work sheds, because keen gardeners use them for all of those things, but with specific gardener variations. A couple of weeks ago, we went into a bit of detail in the post What makes a garden shed a garden shed? but, in a nutshell, it needs to be big enough to separate the objects that will be stored into categories such as tools, plant food, pesticides or herbicides, and gardening equipment. Different people with different sized gardens who spend different amounts of time indulging their passion for gardening will want different sized sheds, but most will need enough space and natural light to be able to spend at least some time inside the shed, sheltered from the elements. This means Western red cedar is an ideal material, for it's excellent thermal insulation, not to mention its flexibility and durability, and the fact that it looks so natural in a garden setting.
Studio sheds
Studios are like sheds on steroids: bigger, stronger, and more impressive. More and more people are adding an attractive, practical, professional-looking structure to their backyards, either as a spare room, recreational space, hobby or art studio, or home office. Of course you can adapt a 'regular' shed to be a home office or hobby space, but you will be much better served by choosing a purpose-designed studio with fully-engineered plans and drawings to submit to your local council, and timber stud walls to allow you to easily personalise your space with the internal walls that suit your purpose and preferences. If this sounds good, check out Why a studio could be a perfect fit for you.
And don't forget that if you have any shed questions at all, we're here, ready and eager to offer our expert advice. Just give us a call or drop us a note.